TOP
Wines
Rapp Ranch Current Releases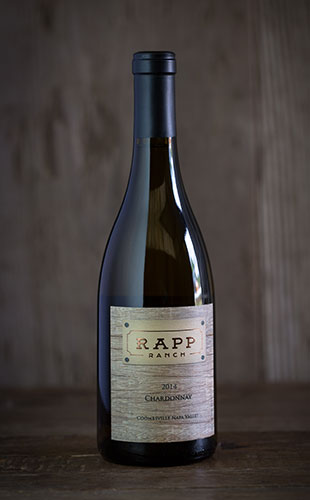 2014
Chardonnay
Coombsville, Napa Valley
Beautiful golden straw color, the aromas of poached pear, brown sugar, grilled pineapple, cardamom and rose petal entice your nose. Bright acidity on the front of the palate leads to notes of pear, nectarine, and tropical fruits leaving a creamy, toasted caramel finish that lingers on the back palate.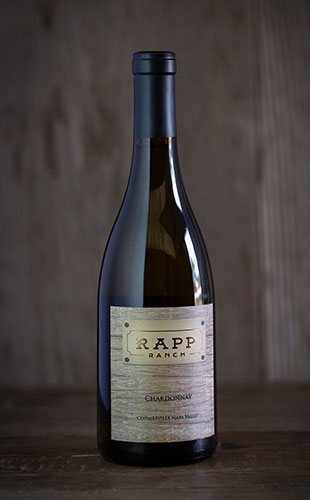 2015
Chardonnay
Coombsville, Napa Valley
"Golden straw in color, the 2015 Chardonnay is rich with a bouquet of white peach, lychee, and
sweet leather. Lingering aromas of dried apricot and honeysuckle invite you to take a sip. The
palate is clean yet full with flavors of blood orange, pear, kiwi and creme caramel. Finishing
with notes of big and juicy stone fruits, lightly toasted oak, and maple butter that linger on the
tongue." — Rudy Zuidema, Winemaker
---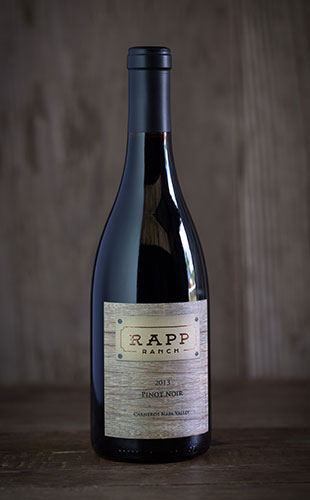 2013
Pinot Noir
Carneros, Napa Valley
This Carneros Pinot Noir is a luminous garnet red with a bouquet of porcini mushrooms, forest floor, tarragon, and cherry rhubarb pie. Lively on the front palate leads to flavors of cherry compote, unsweetened cacao powder, cranberry sauce, fresh cut leather, and a smokey pate. This light to medium bodied Pinot Noir glides across your palate with a lingering finish that makes you keep coming back for more.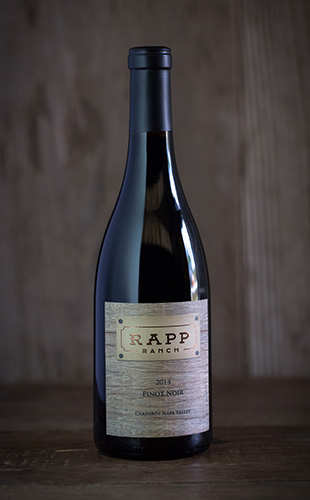 2014
Pinot Noir
Carneros, Napa Valley
Brilliant dark ruby in color, this Carneros Pinot Noir is beautiful from the start. Aromas of dark black fruit, cinnamon stick, cedar and suede lure you in with secondary notes of earth, mushroom and graphite not far behind. Velvety and soft on the palate, the balanced yet structured tannins glide across the tongue with flavors of cherry pie filling, red vine licorice and baking spice. The long-lasting bright finish makes you keep going back, sip after sip.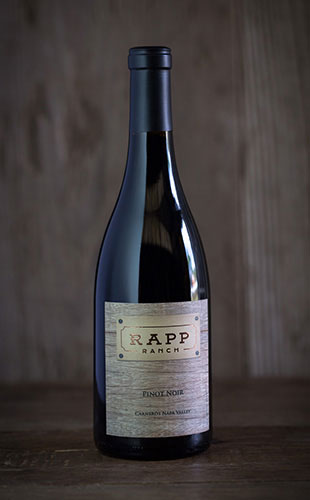 2015
Pinot Noir
Carneros, Napa Valley
"This garnet hued 2015 Pinot Noir introduces itself with aromas of cherry pie, cassis and cedar
with subtle notes of honey and lavender. Medium bodied, this wine shows flavors of bright Bing
cherry and red raspberry with a balanced acidity as the fruit lingers on your palate and
finishes with a slightly toasted oak." — Rudy Zuidema, Winemaker
---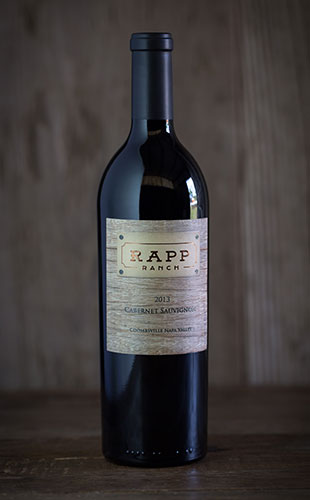 2013
Cabernet Sauvignon
Coombsville, Napa Valley
This is a benchmark Coombsville Cabernet with classic black cherry, mocha, caramel and cedar inviting you to the next step. Rich black cherry, currant, fresh herbs, and chocolate fill the mid-palate with harmony and balance. Lovely fine tannins keep the toasty oak and bright cassis going on and on with a juicy texture that will match many different foods.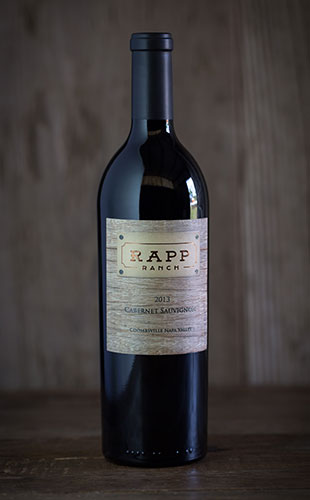 2014
Cabernet Sauvignon
Coombsville, Napa Valley
Dark Berry in color, this full bodied 2014 Cabernet Sauvignon boasts aromas of black cherry, cacao and fig with hidden hints of mint, earth, and coffee. Soft and silky on the palate with flavors of berry pie, cedar, licorice, and caramel. Finishing with juicy, rich and fine tannins that linger longer and longer with each sip.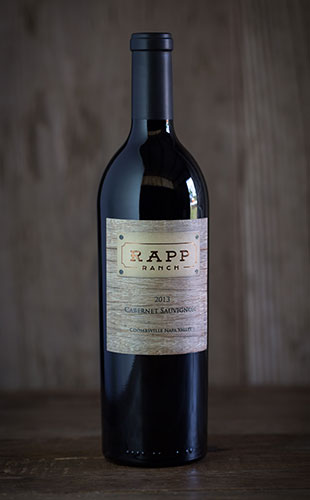 2015
Cabernet Sauvignon
Coombsville, Napa Valley
"Harvested from the surrounding winery property, our 2015 Rapp Ranch Cabernet Sauvignon is dark garnet in color with aromas of sandalwood, sweet leather, and cocoa powder complimented with secondary notes of pomegranate and strawberry chutney. This full bodied, juicy wine provides well integrated, dusty tannins on the palate with an elongated blackberry and black cherry finish" — Rudy Zuidema, Winemaker
---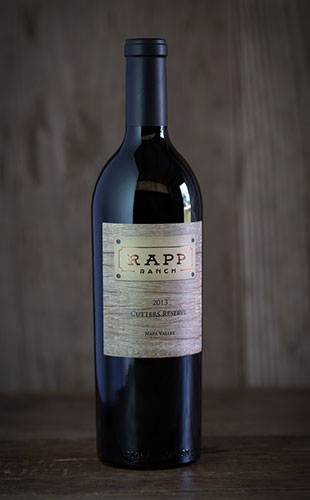 2013
The Cutter's Reserve
Napa Valley
This blend of Bordeaux varieties offers a hugely complex array of flavors but with focus and a precise target in mind. Bing cherries, red licorice, sage, and white pepper are just a few of the many layers of aromas. This is a big wine with both red and black fruit flavors including kirsch, cassis, and blackberry. There are also earthy notes of leather, anise and tobacco. The finish is a mouthwatering burst of deep toasty oak, ripe tannins, and a long sweet kiss of creamy spice. (Whip cracks…!)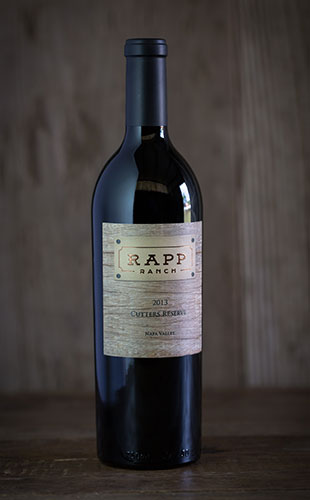 2014
The Cutter's Reserve
Napa Valley
This Napa Valley red blend is uniquely driven by 45% Petit Verdot. Blueberry , licorice, and rose petal entice the nose with secondary aromas of rhubarb, mint and graphite. Medium bodied on the palate, a burst of mixed berries, anise, and kirsch kiss the tongue. Balanced, firm tannins lead to a bright, long, lingering finish.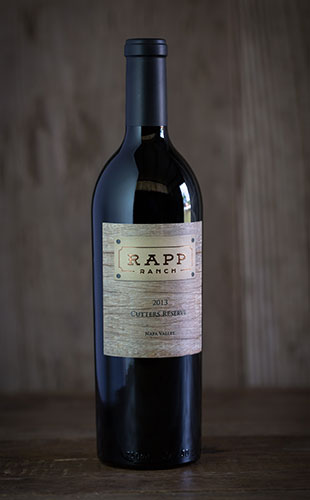 2015
The Cutter's Reserve
Napa Valley
"Driven by the uncommon varietal Petit Verdot, the 2015 vintage differs from previous years with Cabernet Sauvignon being the dominant second varietal showcased in the blend. Enticing aromas of sweet pipe tobacco, brown sugar and orange spice invite you to take a sip. A boldly structured palate provides flavors of boysenberry, raspberry, vanilla, cardamom, and plum. This big and showy wine has voluptuous tannins from start to the long lingering finish" — Rudy Zuidema, Winemaker
---
Rapp Ranch
Library Wines
---
Wine Club Offer
Love our wines and want regular shipments to your doorstep?
Sign up for our Champions Club or Winners Circle here and receive 10-15% off all future orders.
Sign up now